"Get you a woman who can do it all"
Our social media profiles are a carefully curated set of photos that we choose to share with the digital world. No one knows how accurate these photos truly are. We just put our lives on display across many platforms in the hopes that it impresses our followers, the hundreds or thousands of people we barely know. We must admit we are such rational beings.
We are using social media as a tool to manipulate how people view us. After all, it is one of the most common metrics that we use to judge other people's lives and in return, it allows others to judge us.
Each social media platform has an intended audience and purpose. Our photos are diligently selected based on who we perceive are seeing them. Rightfully so, your manager on LinkedIn does not need to see the same photos as your hot date on Tinder, regardless of how attractive that half-naked selfie was.
What if we could compare all of our photos, side by side, to see how quickly our persona changes across the different social media channels? That's exactly what Dolly Parton did with her social media challenge that went viral.
Celebrities jumped in with their collection of photos and it was hilarious to witness. Their compilation proves that whether you have five followers or five million followers, it doesn't make a significant difference in how we present ourselves. We all portray ourselves in similar ways.
Beginning with Facebook, it's usually a pool of family photos. This platform features your annoying spouse and children as well as your clingy pet. This is the go-to place to see other people's perfect families and wonder why your family is so dysfunctional.
LinkedIn is reserved for our overpriced professional attire. Many of us appear to be content with our professional lives, even if it's quite the opposite and we're just counting down the days till the weekend.
Instagram shows off our amazing social lives with lively parties and outfits on fleek. In reality, no one has any idea what your Friday night actually looks like. For all we know, the night could be spent alone indulging in a tub of ice cream on the couch.
That leaves us with Tinder and it's an app where less is more. Enough said.
Let's just embrace all the personas we portray on social media. It's funny because we all do it. Even celebrities as you can tell by the images below.
1. Ellen DeGeneres
2. Jimmy Fallon
3. Mindy Kaling
4. Lilly Singh
If you are going to catfish, do it right with a perfect bikini body. Spotted Priyanka Chopra Jonas
Disclaimer: For all you crazy people, we don't actually encourage the act of catfishing. Use the suggestion at your own discretion.
5. Janet Jackson
6. Jessica Chastain
7. Mario Lopez
8. Oprah Winfrey
9. Will Smith
10. Arnold Schwarzenegger
11. Kerry Washington
12. Jonas Brothers
13. Marshall Mathers
14. James Bond (Stud On Every Platform Part 1)
15. Terry Crews (Stud On Every Platform Part 2)
16. Hannah Montana (Throwback)
17. Wait For It ... Miley Cyrus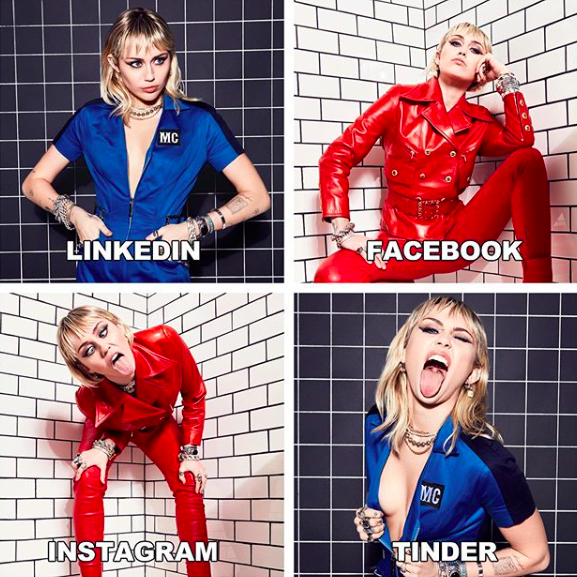 18. Kristin Chenoweth
19. Conan O'Brien
20. Robert Pattinson
Recommended