After all, LEGO is intended for those aged 4-99.
The town of Hanau, Germany has been taken over by Legos. No, they haven't opened a new store or released some new movie, thank god. This time, they've made headlines for a more wholesome and admirable reason.
62-year-old Rita Ebel has been wheelchair-bound for the past 25 years due to an unfortunate car accident. One day, as she was flipping through a medical journal for paraplegics, she came across a photo of a woman in an electric wheelchair using a ramp made entirely of Legos. Having experienced the lack of disability-friendly options in her town, she felt inspired by the idea and thought about getting involved herself.
Ebel's friend, who is also in a wheelchair, is to thank for giving her the final nudge to do it. She explained that she could not successfully leave a local shop or restaurant due to their inaccessibility, and sometimes had to seek out up to four strangers to help her exit safely. Knowing how unacceptable this is in today's society, it was time to take action and dive elbow-deep into some kid's toys.
With the help of her husband and about 8 tubes of glue, 12 sets of ramps (and counting!) have been built and made to order with donated Lego blocks. What helps the most is that she has been supported by businesses in the area, ordering ramps for their shops and admiring the meaning behind it and the attention they attract. Thanks to their bright and original design, people always stop and admire her projects—before a child runs and tries to take it apart to play.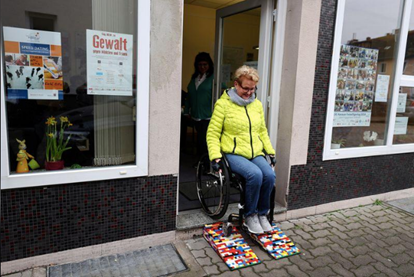 Ebel's goal for this project, apart from having the normal luxury of being able to enter and exit shops independently, is to shed light on the lack of inclusion in society when it comes to wheelchair access. In an interview with Reuters, she explained that it's all about getting the attention of those who are non-disabled and make them think, hoping to try and 'sensitize the world to barrier-free travel.'
Eager to take her trend international, Ebel has and is willing to send ramps to whoever wants them. So far, Ebel and her husband have custom-built and shipped ramps to Switzerland and Austria, and are in talks with a school from Spain and the US as well. If you're interested in building a ramp of your own, Rita and her husband are happy to send over the instructions on how you can make your own ramp—just don't step on any with bare feet. Happy Lego building, fellow adults!
Recommended