Health professionals only advised against smoking marijuana during this pandemic, they didn't say anything against consuming it though.
Finally, some positive news: it's 420!
Not only is it a worldwide holiday, but it's one we can all use to calm the anxieties we're all facing right now. However, you should think twice about picking up your joint, blunt, or bowl—it isn't exactly the best option for our lungs during a pandemic over a virus that attacks, uh…the lungs.
Albert Rizzo, MD, chief medical officer for the American Lung Association, warns that smoking marijuana right now can put you at risk for contracting the virus in a severe form as toking irritates the lungs, ultimately leaving them more vulnerable for infection. So, before you dive into today's festivities, think twice about what it might be putting you at risk for. But don't you worry—there's plenty of ways today can still be celebrated.
We're not here to tell you that weed is bad and you shouldn't use it—quite the opposite, actually. Here's a list of all of the ways you can still celebrate 420 without irritating your respiratory system.
And if you aren't so ecstatic about having to blaze up by yourself, keep scrolling to find a very potent list of online gatherings. As Living Sharp once said, nothing can take 4/20 from us, not even 2020.
Edibles
No, don't bite into your plant. An edible is any type of food that has been made with cannabis-infused oil. Popular items include baked goods such as brownies or cookies, but people have gone as far as to make chocolate bars or gummies as well. Does the job, tastes good, but most importantly you don't have to suck in a puff of smoke.
Vape Pens
If inhaling is your preferred method, give vaping a try. What makes this method of cannabis consumption safer than smoking it from the flower is that vaping heats the cannabis without combustion, reducing the risk of ingesting toxins in marijuana smoke as it's produced through cannabis oil. Plus, inhaling vapor is *way* less harsh on your lungs than smoke is, so #win.
Capsules
Like a vitamin, THC capsules are a fantastic option for those concerned about their respiratory system. The benefits from using 'cannacaps' are that they deliver a steady, predictable dose of THC, and they can be used to treat a variety of ailments when combined with other ingredients (i.e. melatonin for sleep or B12 vitamins). Talk about killing two (or multiple) birds with one stone!
Drinks
That's right, all it takes is sitting back and taking a sip. While this option is more convenient to those in locations where the marijuana market is legalized, it's an awesome option for cannabis consumption. There's cannabis coffees, teas, sodas, lemonades and juices to choose from to either ease pain, calm anxiety, or take you on a psychedelic adventure.
Patches
Similar to a nicotine patch, transdermal patches are relatively new on the scene. The benefits of choosing a patch is that they are long lasting and allow cannabinoids to be delivered straight into the bloodstream, bypassing the digestive system completely. They're also easy to hide while out in public, and don't carry around the same stench marijuana does so no one will ever know!
HighStream 420 Festival
This Festival is set up to benefit those effected by COVID-19, and will feature speakers, interactive panels, and musical performers. Catch the festivities through streaming on Nugs TV—yes, that's a real thing.
420 for a Cause
Starting at 1 pm MDT, this Colorado fundraiser is for comedians, musicians, and service-industry workers who's work has been effected these last few months. Streaming takes place on their website, 420foracause.com with a special 'bud drop' right at 4:20pm (which is unfortunately 5:20 for us East Coasters).
Higher Together: Sessions from Home
Streaming on Twitch today is the Higher Together: Sessions from Home music and arts festival. From 11am to 6pm PDT, tune in to this online cannabis, music, and arts festival featuring both comedians and 'weed icons' alike.
Stoned Alone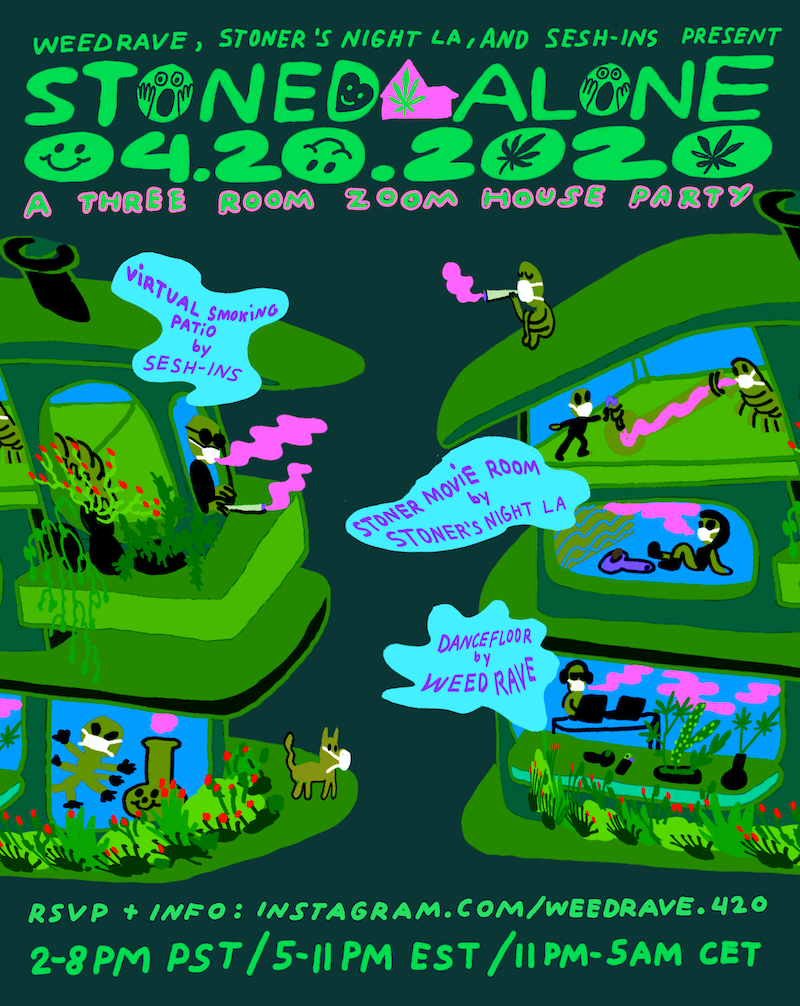 Possibly the most unique form of virtual 420 gatherings, Stoned Alone has been called the "the cyber house party of your quarantine dreams." You have to pay $4.20 USD per ticket, but with three themed zoom rooms, activities, and entertainment, it'll be worth every penny.
Lightshade's Virtual 4/20 Party
The cannabis company Lightshade, based in Denver and Aurora, Colorado, is throwing a virtual concert and fundraiser for nonprofits that support hunger and homeless youth relief. There'll be comedy, cooking sessions, and more all kicking off at 4:20pm CDT streaming for free on Twitch.
Recommended