These are the cover-ups we want to hear about in the news.
Have you ever gotten a bad tattoo? Not one that's lopsided or uneven, but one that's obtusely offensive, and completely ignorant towards a large group of people? Me either, but there are a good amount of people who unfortunately have.
A large amount of the tatted population have at least one they regret, or don't care for anymore. Maybe they snuck off to get it as a teenager, or stumbled into a tattoo parlor after one too many drinks. Either way, they probably don't relate to it anymore, and it doesn't reflect who they are as a person. But in today's society, with so many changes going on and conversations taking place about how we can improve as people, how do we hide the ugly, inky mistake etched into our skin?
Enter Kentucky, stage right.
That's right, a tattoo shop in Kentucky by the name of Gallery X Art Collective has taken a stand by offering cover-up tattoos to anyone looking to get rid of their racist ink, completely free of charge. While owners Jeremiah Swift and Ryun King don't align with anything 'hate-related,' they're forgiving of the fact that people can do some dumb things when they're young, and that they're completely capable of changing their beliefs. "We just want to make sure everybody has a chance to change," says King.
Since first posting the announcement on their Facebook page, the requests have been pouring in.
Their first cover-up was for a 36-year-old mother of two, who had gotten a small confederate flag tatted on her ankle when she was just 18. "I went to a school where there wasn't a single black person. Our community had no black families, they would literally run them out every time one moved in," she told CNN. "Everyone in my school flew rebel flags and had rebel flag tattoos and I bandwagoned and got the tattoo. It was a horrible thing to do."
She drove 40 minutes to get her tattoo covered, and what image did she choose, you ask? What else but the pickle from Rick and Morty.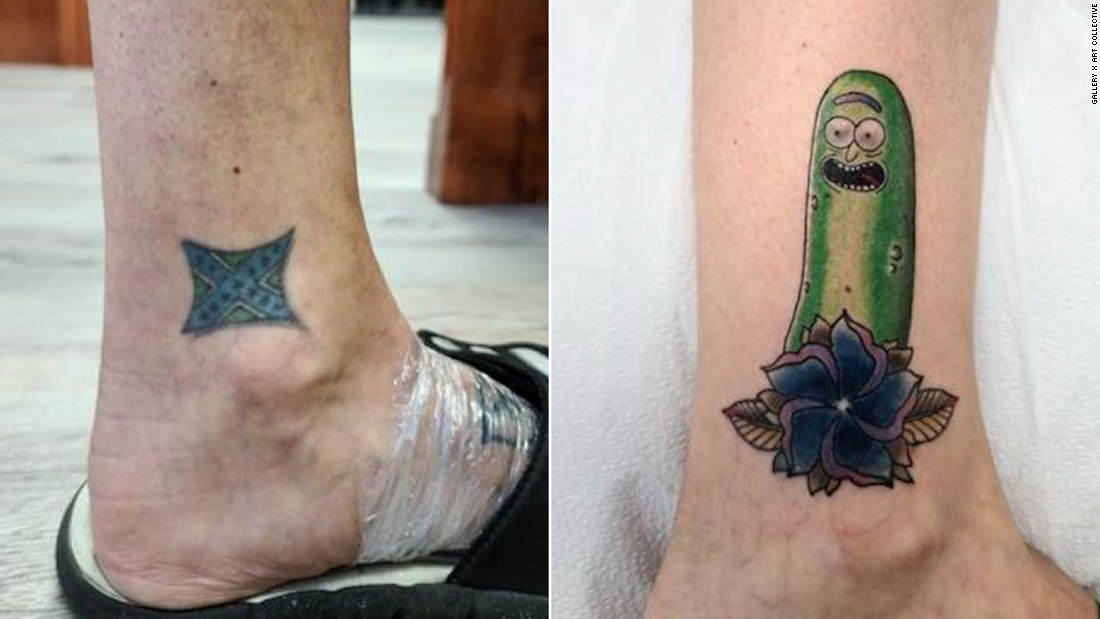 King went on to describe further cases that made him proud of the choice they made to help their community. A man who came in with sleeves of racist symbols on both arms, or another man with a giant swastika who had never taken his shirt off in front of his kids.
"I like seeing people want to change themselves for the better, that swells me full of emotions," King said.
Recommended