Move over recycling, there's some new sustainability in town.
You've all heard of (and hopefully participate in) recycling. We take the time to carefully separate our plastics, glass, and papers from our normal trash in order for it to be sent to a separate facility to be broken down and turned into something else. Unfortunately the recycling industry is overwhelmed with materials, resulting in only 9% of plastics actually being recycled. That means 91% of things we throw in the recycling bin with satisfaction and pride end up somewhere else, like landfills and the oceans. Not cool.
Though this number is shocking, there's only so much we can do to aid this effort. One important thing we can do that often goes unnoticed is a little thing called upcycling.
What's this, you ask? Well if you haven't already heard of it, upcycling is taking these materials we often throw out and turning them into something completely new and functional in a totally sustainable way. As a result, there's no waste, and you have a new item in your home to either use as decoration or utilize as a brand new tool. How cool is that?
Yeah, I'm a total nerd, let's move on.
In case this is a brand new term and idea for you, we compiled a list that can help you get started on some creative ways random things in your home can be upcycled into something new:
1. Use toilet paper rolls for cord organization
It may sound a little silly, but your old toilet paper rolls deserve a chance at a second life. An idea for upcycling these bad boys is to put them around your messy cords, or store unused cords in the meantime to reduce clutter. Maybe even decorate them, or write on them to remember which cords are which. Either way, you're putting them to better use than a landfill would!
Learn what else you can do with toilet paper rolls at Instructables!
2. Repurposing mascara wands
Mascara dries out fairly quickly, meaning we can go through two to three a year. That adds up fast! When you're finished, try rinsing them off and using them as an eyelash comb, or as a little brush to groom your pets face or paw area. If you prefer neither of those, consider sending them to the Appalachian Wildlife Refuge's 'Wands for Wildlife' program, where they repurpose them for wildlife rehabilitation and cleaning.
3. Reuse old coffee creamer containers for watering
Okay coffee drinkers: this one is for you. When you finish your creamer, try cleaning it out and using them to water your plants. If you're a multiple plant owner, a fun idea is to place one near every plant so there's no excuse if you're feeling lazy to go get some water. Here's a fun TikTok that gave us this idea:
4. Turn old jean pockets into wall organization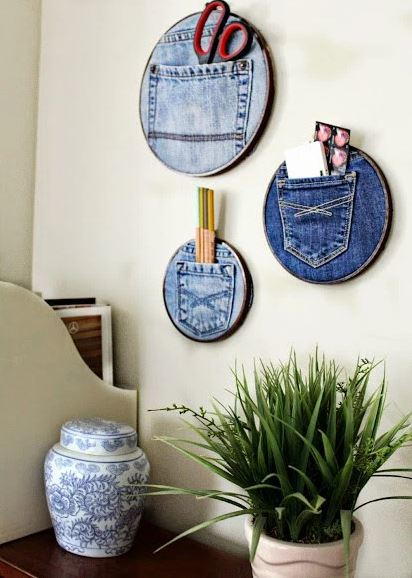 Don't fret if you don't fit into old jeans—many of us are suffering from that COVID 19 lbs we all gained. If you're looking for a sustainable way to dispose of them, channel your inner crafty self and turn them into a creative wall organizer. The pockets are a perfect place for you to store what you need, and find it easily too!
Learn more great hacks at DIY Idea Center!
5. Transform old lampshades into pot holders and more
Getting rid of an old or ugly lamp? Don't waste it! Strip the fabric off and use the metal interior for something creative like plant pot holders. They're perfect to put to use either inside or outside, and once the fabric is gone, you won't even recognize it. The perfect edition to spice up a dull area of your house!
Discover what else you can make with old lampshades at Craft Invaders!
6. Go from bags to basket
Another one for the thrifty DIYers! No matter how many cities or countries ban plastic bags in retail stores, it's going to be hard to escape them for awhile. If you find yourself overwhelmed with bags and nowhere to put them, why not turn them into a basket for more storage! It eliminates the bag clutter and gives you a place to put, well, more bags.
Check out Instructables for more great ideas!
7. Transform an old frame into a chalkboard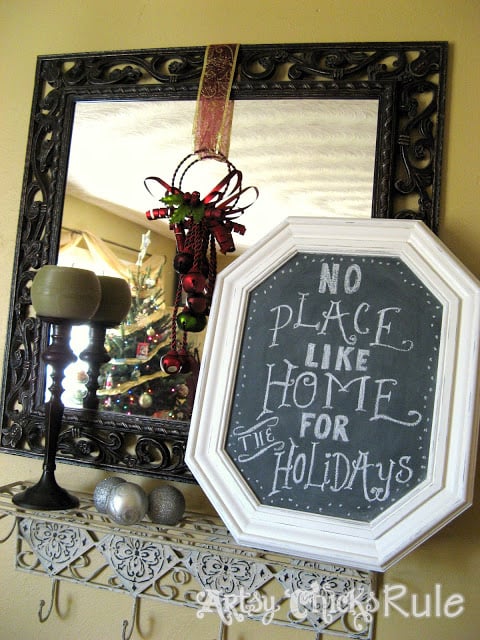 One of the biggest blessings in the DIY world has been chalkboard paint, and the best part is you can put it anywhere—even old picture frames! Paint over it and put it in an area of your house that needs spicing up, or could use a nice little message. They're less decorative and more fun, and perfect if you have kids!
Check out Artsy Chicks Rule for more great ideas!
8. Make an old t-shirt into a face mask
@kungfujeff

15 seconds to turn your shirt into a ninja mask. And apparently this was a violation? #ninja
We had to give you a sustainable way to make a mask, because now there's no excuse for not having one! It's super easy to take an old t-shirt and either sew or fold it into a wearable face mask. There are tons of step-by-step ways on how to do this on the internet, and it's much more eco-friendly than going through a pack of disposable masks!
Recommended