Will Tampa Bay Tom live up to the accolades?
Twenty years, seventeen playoff runs, nine Super Bowl appearances, six Super Bowls, and one seemingly unstoppable coach-QB combo equated to what many believed was a dynasty unbreakable by even God himself.
Like the Popovich-Duncan Spurs, Bill Bellichick and Tom Brady had molded the New England Patriots into one of the greatest sports dynasties, if not the greatest, ever. They were perennial playoff threats who had an unruly knack for making it to the final round.
Of the three seasons where they missed the playoffs, two were in Brady's first few seasons, while the third was in 2008, when he had his knees blown out, keeping him sidelined for an entire season. You literally had to take em out by the knees to keep em out of your way.
Despite their aura of invincibility, success never came easy. Countless come-from-behind wins and maniacal plays orchestrated by the duo defined their two decades of domination.
So what went wrong? Why would Brady willingly depart the franchise he practically built? What more did Brady have to prove?
As speculation runs rampant, only one person truly knows the answer: Brady…and probably his wife, and his best friend, and Bellichick probably has a clue, but that's besides the point.
Some say it's because Brady wanted a longer commitment from the Pat's, since he feels he still has a lot left to give to the game. Others say it's because he wants to prove these last 20 years have largely been his doing and not just the fortunate outcomes of a great system.
Whatever the reason may be, one thing is certain; we get to see a fresh new Brady. Sure, after 20 seasons, we've seen just about all Brady has to offer. But now that he's joining a new system in Tampa Bay, we may finally get to appreciate just how great Tom Brady actually is.
Signing a two-year deal worth $50 million, Brady joined the Buccaneers on March 20th, officially ending his storied time in New England. With it comes the anticipation and the doubt as to whether Brady can really carry the Bucs to the promised land, cementing his legacy as the greatest QB of all time.
And that's great for us because that means there's a brand new chip on Brady's shoulder. And we've all seen what Tom Brady can do when he has a chip on his shoulder.
From being overlooked in high school, to being doubted in his past-prime days, Brady is no stranger to criticism. But where others crumble, Brady thrives.
If you still don't believe it, just look at what he's done over the last 20 years.
Unfortunately, the No Fun League doesn't allow any video with NFL content to be played outside of YouTube. You can still follow the link in the videos to watch the clips.
2000
Overlooked is an understatement. After fighting for the starting role at Michigan and leading them to an Orange Bowl championship, the aptly named "Comeback Kid" fell all the way to the 199th pick of the 2000 NFL Draft. His pick wasn't even broadcast on T.V. as it was made during a commercial break.
Brady vividly remembers the six other quarterbacks drafted ahead of him in the draft, and as history has proven, those picks were all, with all due respect, a horrendous mistake.
2001
After being drafted in the 6th round the year before, Brady rarely saw any playing time. He eventually worked his way up from seventh-string QB to back-up, but it wasn't until Week 3 of the 2001 NFL season where Brady would get to start for the Patriots, and he never looked back.
His start came after Drew Bledsoe, the Patriots Pro-Bowl starting QB suffered a serious injury late in a Week 2 game against the New York Jets, vacating the spot for Brady. The rest is legend.
2002
Bear with me here. Yes, Super Bowl XXXVI is part of the 2001 season but 2002 wasn't a very remarkable season for the third-year QB. They just barely missed the playoffs and were still finding their juggernaut stride.
So, since the Super Bowl was played in February of 2002, we're going to use that technicality to talk about Brady's first Super Bowl win.
As previously mentioned, Brady had just gotten the starting job in Week 3 of the season. In just his second season in the NFL (you could almost argue it's his first real season), Brady lead the Patriots to their first championship in franchise history. He would also take home his first of many Super Bowl MVP's.
2003
After missing the playoffs the year before, the Pat's were back in the Super Bowl. Now in his 4th season, Brady had all the confidence and hardware he needed to brashly put together a winning drive with just over a minute left in the game.
With 5 of his then-record 32 completions coming in the final drive, Brady got New England in position for a 41-yard field goal that would put them up, 32-29, sealing their second championship in three years.
Brady would also win his second Super Bowl MVP.
2004
You thought we were going to talk about the Patriots back-to-back Super Bowls, didn't ya. We could, but then we would have to overlook the Fever Game, and that would just be wrong.
What is the Fever Game and why have you never heard of it before? Probably because no one actually refers to it as the 'Fever Game', but hey, there's a first for everything.
The Fever Game was the AFC Championship Game against the Pittsburgh Steelers. The night before, Brady was reportedly suffering from a high fever, with his temperature rising as high as 103 degrees. After having an intravenous line in his left arm and a little R&R, Brady suited up for the game despite feeling ill and comfortably lead his team to another Super Bowl appearance.
2005
Well, would ya look at that. It's the back-to-back Super Bowl wins. There was no way we couldn't mention it, and since the Super Bowl was played in the 2005 calender year, we're abusing the technicality once more.
Making their third Super Bowl appearance in just four years, the Patriots were on route to becoming a dynasty. Only, Philadelphia stood in their way. It was a close game but the Pat's came out victorious, propelling New England into the Pantheon of professional sports teams.
That's three Super Bowl wins in just as many appearances, in his first five seasons, in case you lost count.
2006
Brady and the Patriots would have to go up against the heavily-favorited San Diego Chargers in the AFC Divisional Playoff on their journey to a potential third straight Super Bowl appearance.
While New England trailed for most of the game, they were able to take the lead late in the 4th and just narrowly held on, as the Chargers would miss a game-winning field goal to end the game.
Unfortunately for the Patriots, their run would come to an end in the AFC Championship, against the Indianapolis Colts. Nonetheless, the performance Brady put together to keep their playoff dreams alive was truly remarkable.
2007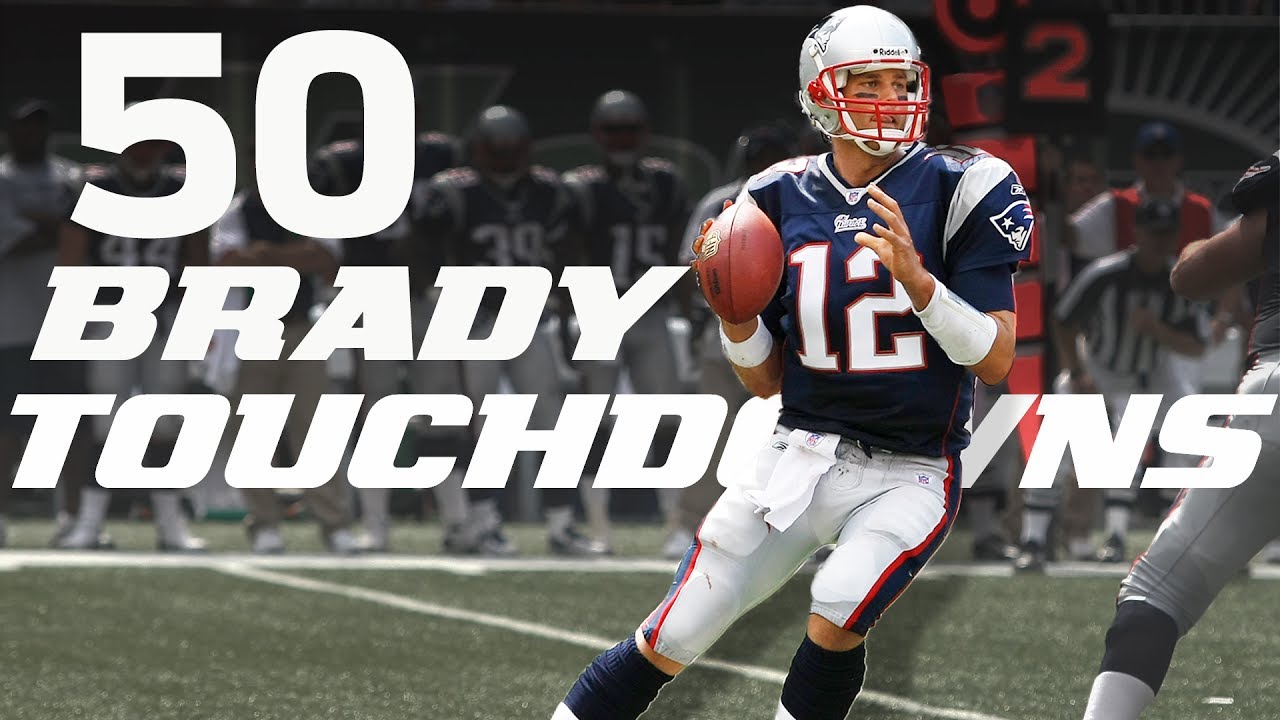 An MVP season if there was ever one. A 16-0 record, capped off by a spectacular 50-touchdown season all but guaranteed Brady his first league MVP award.
The only thing that could have made this season any better was if they had managed to keep their lead against the New York Giants in the Super Bowl. Instead, it would be New Englands first loss of the season, and Brady's first Super Bowl defeat.
2008
2008 was not a good year at all. In fact, it was terrible. In the first game of the season, Brady took a bad hit as he threw the ball to Randy Moss. As if Mercury was suddenly in retrograde, everything went horribly wrong.
The pass, which appeared to be easily caught, was fumbled. Then the camera switches back to number 12, and it is an even more troubling scene. Tom Brady is writhing on the ground while holding his knee. He had torn not only his ACL, but his MCL to boot.
The Patriots missed the playoffs without their star QB as the injury would keep him out a full year. But, it would not keep him down. Putting together an inspiring season, Brady would eventually be crowned the Comeback Player of the Year, for the 2009 season.
2009
Speaking of Comeback Player of the Year, nothing speaks more to his college nickname, and eventual award, than the very first game of the 2009 season. Down 11 in the final stretch of the game, Brady put together another one of his trademark comebacks to narrowly beat the Buffalo Bills, 24-25. This is his first game after tearing both his ACL and MCL. Just reminding you.
2010
For the first time ever, there was a unanimous Associated Press NFL MVP and who better than the poster-child of the NFL, himself. Brady secured every vote, of the 50 available, to be named the 2010 NFL MVP after putting together a monster season, a year after being named the Comeback Player of the Year.
2011
Tying the NFL record for longest completion, Brady sent the ball to Wes Welker for an astonishing 99-yard touchdown. He threw it from inside Miami's endzone, and had the ball carried all the way to his own endzone. In. One. Single. Play.
2012
With a win over the Texans, Brady passed his idol, Joe Montana, for the most career playoff wins. His 17th at the time, Brady would go on to almost double Montana's record of 16 wins, with a current total of 30. If his next two seasons with the Buccaneers pans out, he might end up doing just that.
2013
This almost ended up in Drew Brees' Highlights Hall of Fame. With New England in control for most of the game, New Orleans is the one who made a late-game resurgence to take a 4-point lead, demoralizing the Patriots. But what have we told you about Tom Brady. Where others crumble, he thrives.
With just over a minute left in play, Brady pieces together a magnificent run that sows the seeds for one of the nicest game-winning touchdown passes ever.
2014
He's not called the Comeback Kid for nothing. Before making their 6th Super Bowl appearance, the Pats had quite the scare in their Divisional Round matchup against the Baltimore Ravens. Going down 14, not once but twice in the same game, the Patriots were clawing their way through this game until the 4th quarter, where they finally took their first lead of the game.
Better late than never, as the Ravens were unable to retake the lead, ending with a respectable Hail Mary attempt that was batted away.
2015
Yes, 2015 was another unremarkable year so we're doing this again. We make the rules around here so this is totally valid.
Super Bowl XLIX would come to be defined by one crucial play. You know the play, and you think you know the right play call that should have been made. Let Marshawn Lynch run the ball. Instead, Seatle throws it, and it's intercepted by rookie Malcolm Butler, sealing the win for New England.
However, many seem to forget just why that last play was so crucial. Down 10 with half the 4th quarter remaining, Brady showed why he would be the eventual MVP. Arbitrary stats like no team has come back from a deficit greater than 7 in the final quarter are of no avail to him.
With two touchdown drives, the Pats were up 28-24 but victory was not yet in site. Not while the defending champion Seahawks had the ball and had a living Lynch on their squad. But we already spoiled that ending so there's nothing left to say here.
2016
The Greatest Comeback In Sports History. The capitalization makes it legit. But in actuality, there has never been a single-game comeback more momentous than the absolute miracle the Patriots pulled off against the Atlanta Falcons in Super Bowl LI.
Trailing 28-3. 28-3. That's 25 points. Even in football, that's a lot. And we're talking about having less than two quarters to make that deficit up. So again, trailing 28-3, Brady rallies his troops like Gerard Butler for Sparta, and chips away at the insurmountable score.
So what must be done to pull off the impossible? An impossible feat of your own. Outscoring Atlanta 31-0 in the final 2 quarters and overtime, Brady carries the Patriots to the most unbelievable Super Bowl victory in NFL history.
Oh, and he won another Super Bowl MVP, in case you were wondering.
2017
If you're going to lose in the Super Bowl, you might as well lose it in style. Setting an NFL record, Brady threw for 505 yards against the Philadelphia Eagles in Super Bowl LII.
2018
This may have been an extremely boring Super Bowl to watch, but it still needed a clutch Brady touchdown drive to seal the deal.
Defence was the name of the game in Super Bowl LIII. Both teams were unable to score more than a field goal, until the 4th quarter, where Brady gets the team to the 2-yard line. From there, they simply rush it into the endzone for the only touchdown of the game.
2019
After a monumental 20-year run, the Brady-era in New England sadly ended with a relatively mediocre season with a Wild Card exit. Sure, they started 8 and 0, but they would eventually lose 4 games, bringing their record to 12-4.
The season did include a few thumpings of division rivals, beating the Jets by 33 to 0, and the Miami Dolphins 43-0.
While defence played a much larger role in New Englands success this past season, their offensive fire power was clearly not absent. And where there is New England offense, there is Tom Brady. Or at least, there was.
2020
On March 17, 2020, Brady officially declared himself a free agent. Just three days later, he signed with the Tampa Bay Buccaneers for a reported $50 million. The signing is technically still not official, as Brady has yet to pass a team physical, as is required. The reason being, all NFL personnel are restricted from traveling due to the ongoing COVID-19 outbreak.
Despite the semantics of the deal, it is now official, in the hearts of fans and officials alike, that Tom Brady is no longer a New England Patriot.
While the world seemingly stands still, our minds run amuck with all the possible scenarios that could unfold this coming season. Will we witness the purest testament to a player's greatness or will we forever argue about the unfair expectations that were placed on an aging vet? Whatever it may be, we now have one more reason to look forward to the upcoming NFL season.
Recommended