"Oh corporate, you do have a heart."
The novel coronavirus has managed to lock us into our homes. Fewer people on the streets meant less business, and so, our favorite restaurants, cafes, etc. started closing left and right, despite how "essential" they felt in our social lives.
While some of us were able to gracefully say goodbye to our favorite joints, not everyone was as composed and understanding.
Of course, the coronavirus outbreak has larger implications, on more than just our preferred chill spots. With shopping malls and sports leagues shutting their doors, and social gatherings, in general, being limited, there is less demand for in the market for accessory purchases that, a few months ago, seemed vital.
However, these is one industry that defies this trend, and rightfully so; the healthcare industry. As frontline medical staff continue to fight this spreading disease, vital equipment and supplies have become short supply.
Ventilators, protective masks, medical gowns, and gloves are just a few of the necessary supplies that hospitals just don't have enough of. As the forecast for the virus remains bleak, the shortage of supplies becomes dire.
And that is where some of the world's most popular brands come into play. Just because they've closed their doors to the public doesn't mean they've gone AWOL. While most big brands are using their platforms to raise awareness about important steps we can all take, such as physical distancing, some have totally shifted their entire focus towards our united brawl with COVID-19.
Here's what some of our favorite brands have been up to:
1. Volkswagen/Audi
Yes, that Volkswagen. It seems they've been working quite a lot to clean up their act and have gone from discretely filling our lungs with carbons to protecting our lungs from COVID.  In addition to their radically redesigned logo, they've also stepped up donate €40 million worth of medical supplies to hospitals that desperately need it.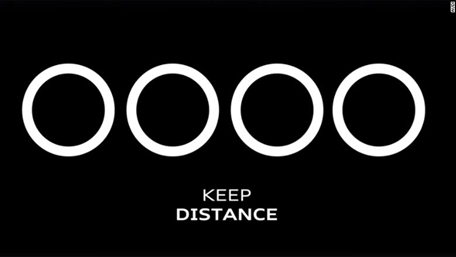 And where Volkswagen goes, little brother Audi follows.
2. Bauer
Bauer, a Canadian hockey equipment manufacturer, recently got the green light to start making protective, full-face visors for medical professionals. The company will adjust its existing assembly lines to accommodate its goal of producing 500,000 visors/day. Power to ya, Bauer. You're stopping a lot more than just hockey pucks and broken noses.
3. Coca-Cola
While the streets of NYC have become deserted, with New York struggling to contain the virus outbreak, those who do venture out to grab some provisions will be greeted by some wholesome advertising. Using their mega-board in Times Square, Coca-Cola (or should we say C o c a – C o l a), shared the secret to minimizing the spread of this virus. It might not be their secret formula, but we'll take it.
4. Nike
You don't need an Italian mayor chasing you around town for you to finally get a clue and go home. You may just be going outside to run a quick errand, or something else totally inconsequential, which will only benefit yourself. But when you stay at home, you're benefitting millions. Be a hero.
Just Stay At Home.
5. Canada Goose
Luxury coat maker Canada Goose announced they'll be using their plants in Winnipeg and Toronto to make medical gowns and scrubs that'll be sent to hospitals for free. The company is known for making designer jackets that shelter everyday people from the cold. Now, they'll be sheltering everyday heroes from, well, a really bad cold. Like, pneumonia bad.
6. Dyson
The British technology giant that specializes in vacuum cleaners was recently ordered to provide 10,000 ventilators to support its country's efforts versus the coronavirus.
Following the event, Sir James Dyson, himself, designed a brand new ventilator in 10 days and its company is ready to produce more than 10,000 units. Looks quite spiffy, if you ask us.
7. McDonald's
Some of us were certainly depending on food joints before all of this as we would have almost no time to cook after a hard day of work. Or our cooking skills were just horrible.
McDonald's Brazil understands this and shared these sentiments in a recent campaign. Similar to other brands, McD's distanced the arches of their logo to promote social distancing. However, the main reason behind their campaign was also to let people know that their home deliveries were still going on and people could also get their food via drive thrus.
Ain't nothing shutting down the clown.
8. Razer
Popular gaming brand Razer announced that they had converted some of their manufacturing lines to serial produce masks. CEO Min-Liang Tan informed the public that Razer was getting ready to donate up to 1 million masks to the healthcare workers in different countries.
We sure hope those masks come with Razers branding because that logo just oozes global pandemic/biohazard vibes.
9. Honorable Mention: Facebook & Apple
Apple's CEO Tim Cook recently announced that the company would be giving away 10 million masks to health care workers in the States and Europe in a short time.
CEO Mark Zuckerberg also announced on a Facebook post (where else) that the company would be giving away the 720,000 masks, they bought incase wildfires got out of control, to the healthcare workers.
Back in the summer of 2019, when the world was actually physically burning, California required employers to provide their staff with N95 mask to protect them from the harmful wildfire smoke. It seems a lot of these Silicon Valley companies have an abundance which they now wish to share with the rest of the world.
Recommended