A little change goes a very long way.
Today's your day, planet Earth!
Thankfully in today's society, living a more sustainable lifestyle has almost become the latest trend thanks to social media. Plants are more of an aesthetic, and vegan cuisine is all the rage. If you're not posting your dairy free, gluten free, plant based lifestyle on your Instagram, then are you even eco-friendly?
Today is the one day we should all consider different ways we can be kinder to the planet. Sure, you might opt for soy milk in your iced coffee, but believe it or not it takes more than that to reduce your environmental footprint.
It might not be as easy as snapping your fingers, but it's really not much harder than that. In honor of this year's Earth Day, here's a list of small changes you can make to your lifestyle to do your part in saving the planet
Consider more thrifted or vintage shopping
Choosing some clothing pieces from second-hand shops is an excellent way to reduce fabric waste from ending up in a landfill. Alternatively, if you're finished with an item of clothing that could still use a little love, donating to a charity shop or a curated online thrift store like ThredUp is a great sustainable option too!
Just because it's thrifted doesn't mean it can't be "you." Maybe you'll find something that'll inspire you to make your own piece of clothing. And that is as "you" as it could possibly ever get.
Carry reusable drinking options
Investing in a reusable coffee cup or water bottle is another awesome way to reduce single-use plastic materials in your life. Not only is it convenient, but coffee chains from Starbucks to your local shop all usually offer a discount for bringing in your own cup too. With the amount of coffee or tea you're probably consuming, it all adds up!
Don't forget, when you use reusable cups, you also get the added pleasure of customizing it to your liking. If you're going to bring it around with you, it should at least reflect your personality.
Cut back on eating meat
I'm not saying you have to quit cold turkey (oh, the irony), but opting for a meatless dish at least once a day or even a week can do wonders for the environment. A study from the United Nations reports that the livestock sector accounts for 9% of CO2 deriving from human-related activities, but produces a much larger share of even more harmful greenhouse gases. Pasta always sounds good, but now it sounds even better. If pasta gets played out, then maybe you'd like to change things up with some fresh dumplings.
Choose oat milk over almond milk
You may be surprised by this one, considering any alternative milk option sounds safe. While this may be true for your tummy, it isn't exactly true for the environment—according to Pete Hemingway from the Sustainable Restaurant Association, 'it takes 1,611 US gallons (or 6,098 litres) to produce 1 litre of almond milk' which is 6 times more than it takes for oat milk. When they taste relatively similar, it's totally worth making the switch. Bonus, you could make it yourself!
Conserve, conserve, conserve!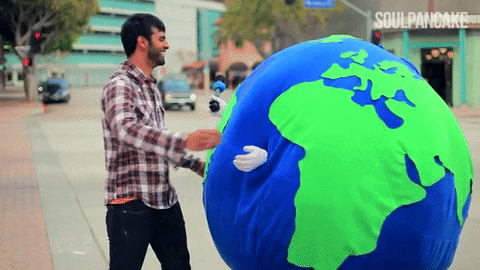 Possibly the simplest change anyone can make to their lifestyles (and at no cost, of course) is to simply conserve where you can. Turn the lights off in areas of the house you're not occupying, don't let the water run when you brush your teeth, take shorter showers, unplug electronics not being used, waste as little food as possible, the list goes on! The truth is, the small changes you implement in your lifestyle will add up to one big change, and push you to keep improving every day.
Everyone contributes to a greener planet in their own way, but this list should serve as a starting point for those of you looking to start with small strides. Many people will tell you to stop driving or transition into composting, but who says there are rules to being eco friendly? I'm sure it'll be grateful either way.
Recommended